Chronological Tour: Stop 294

They've Got the Power
---
| | | |
| --- | --- | --- |
| Main entrance to Appalachian Power Park (down the right-field line), Jul-2005. | Seating here is in a single level. | A look down the first-base line, a view that includes the capitol dome. |
---
Quick Facts:
Location: Brooks and Lewis streets (entrance on Morris), Charleston, W.Va.
Opened: 2005
Home team: West Virginia Power, South Atlantic League (2005-present); University of Charleston Golden Eagles, West Virginia Intercollegiate Athletic Conference
Capacity: 4,303
Rating:



3 baseballs
---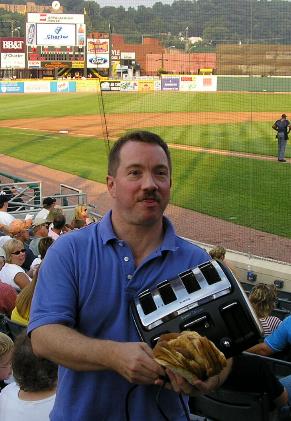 The Toast Man still holds court.

Watt Powell Park, a classic park in the Kanawha City section of Charleston across the river from the state capitol, had served the city well since 1949, but it had seen better days. After much political wrangling, a new park was finally built in the old warehouse district and opened in 2005.

The main entrance to the park is not where one expects it. Most parks have a box office near home plate, but not Appalachian Power Park. Their box office (and general offices, and the Power Alley Café) is located in a building down the right-field line, and you actually have to walk all the way around to where the right-field foul pole is in order to buy a ticket.

That wasn't the only quirk to the park. They have a wrap-around concourse that includes a few seats from Watt Powell Park in left-center field, under the scoreboard. But when you walk down the left-field line toward the picnic area, you can't continue straight along that concourse. You have to step down and around some little structure in order to keep going, a bit of an inconvenience (but a courtesy to those in the picnic area).

I also thought their sound system was way too loud. Sounded nice, but way too loud for my taste – I couldn't talk to people while announcements were happening. They haven't finished the awning along the third-base side, either, so there is very little shelter from sun or rain.

At least the beautiful state capitol dome is visible if you look down the third-base line. The dome was covered with a tarp for renovation when I visited in 2005, but that is hardly the park's fault. And "Toast Man" Rod Blackstone, now a deputy mayor in town, is still holding court in an equivalent spot in the new park.

There had been calls to name the new team the Charleston Charlies, after the International League club of the 1970s, but when the team made a deal with Appalachian Power (the local electric utility) as a park-naming sponsor, the team became the West Virginia Power. There are plenty of plays on words throughout the park and the game; for instance, the souvenir stand is the Power Outlet.
---
Return to the Stadiums page
Return to Charlie's home page
E-mail: charlies.ballparks@verizon.net
---
Site and images Copyright © 2005 Charles O'Reilly. All rights reserved.
This page updated 2-Jul-2016