Warner Park
---
| | |
| --- | --- |
| The seating bowl of Madison's Warner Park, Jul-2003. | A view from behind the plate. |
---
Quick Facts:
Location: Sherman Avenue and Northside Drive, Madison, Wis.
Opened: 1982
Home team: Madison Muskies (1982-93), Madison Hatters (1994), Midwest League; Madison Black Wolf, Northern League (1996-2000)
Capacity: 6,000 (approx.)
---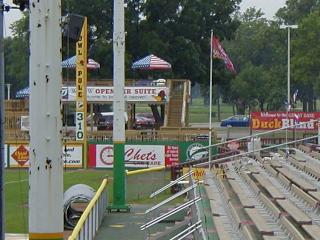 A recently added fun fan area at Warner Park.

Madison's Warner Park has hosted some minor league ball in the past, and it is now the host of the Mallards in the Northwoods summer collegiate league.

The Mallards are a success story of their own, drawing over 4000 fans per game in 2003; when I arrived, they had hit 100,000 in attendance after just 23 home games, with 10 to play. General manager Jason Karegeannes told me that the Mallards have promoted themselves as a group that's in town to stay, and they've put a lot of work into Warner Park as well.

It's an unspectacular facility, perhaps a little better than Heritage Park in Colonie, N.Y., but the promotions department has made the place work, and the field improvements continue.
---
Return to the Stadiums page
Return to Charlie's home page
E-mail: charlies.ballparks@verizon.net
---
Site and images Copyright © 2003 Charles O'Reilly. All rights reserved.
This page updated 5-Aug-2003