Chronological Tour: Stop 28

Goodland Field
---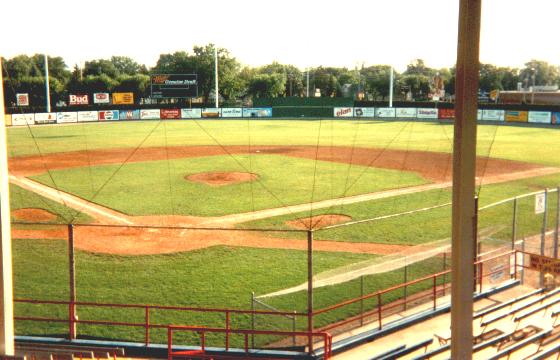 Goodland Field, Aug-1992.
---
Quick Facts:
Location: Appleton, Wis.
Opened: Unknown
Closed: 1994
Home team: Appleton Foxes, Midwest League
Capacity: 3,500 (est.)
Rating:

1 baseball
---
I visited Goodland Field in Appleton but once, in 1992. The park was quite unspectacular.

Already by then, plans were in the works to build a new facility, Fox Cities Stadium (Appleton is on Lake Winnebago, a swelling of the Fox River). Unfortunately, the Foxes name was lost in the transition and the team is now called the Wisconsin Timber Rattlers.

Goodland Field, as such, no longer exists. The land went to the local school district, which reconfigured the property for its sports complex.
---
Return to the Stadiums page
Return to Charlie's home page
E-mail: charlies.ballparks@verizon.net
---
Site and image Copyright © 1992 Charles O'Reilly. All rights reserved.
This page updated 10-Aug-2009