Chronological Tour: Stop 179

Engelís Replacement
---
| | | |
| --- | --- | --- |
| Entrance to BellSouth Park, Aug-2011. | Thanks to a freeway, the seating arrangement here is unbalanced. | The view from behind the plate, which doesnít quite include the Tennessee River. |
---
Quick Facts:
Location: 3d and Pine streets, Chattanooga, Tenn. (map it using Google Maps)
Opened: 2000 as BellSouth Park
Additional names: AT&T Field (2005)
Home team: Chattanooga Lookouts, Southern League (2000-present)
Capacity: 6,160
Rating:



3 baseballs
---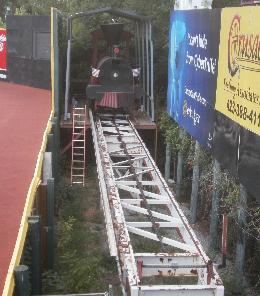 This choo-choo emerges for a Lookouts home run.

BellSouth Park replaced Engel Stadium, which had served the Lookouts (and the Negro League Choo Choos) for most of 70 years except for a 10-year hiatus. Instead of being up the Third Street hill as Engel was, BellSouth is located on Hawk Hill, two blocks west of the Tennessee Aquarium and right up against the Route 27 freeway that crosses the Tennessee River.

The river cannot be seen from the stands, although it is possible to see it from the right field picnic pavilion. Most spectators have a view of the hills on the other side of the river, however.

With the limited room in the park, most of the seating capacity was placed on the first-base line. With the batters facing to the northwest, that means most of these seats (all regular chairs except for the topmost 8 or 10 rows, which are backed aluminum benches) are in the sun Ė except when the sun is covered by clouds, as was the case the night I visited. The concourse is below the seats, so you canít order food and watch the game at the same time.

As I told a Chattanooga Times / Free Press reporter the night I visited in 2000, itís not Engel, but itís a good place to watch a game.
---
Return to the Stadiums page
Return to Charlieís home page
E-mail: charlies.ballparks@verizon.net
---
Site and images Copyright © 2011 Charles OíReilly. All rights reserved.
This page updated 16-Aug-2011