Chronological Tour: Stop 380

Stade municipal
---
| | | |
| --- | --- | --- |
| Exterior of Stade municipal, Aug-2015. A racing track surrounds the stadium. | The seating bowl as seen from the edge of the third-base grandstand. | A game in progress as seen from directly behind the plate. |
---
Quick Facts:
Location: Avenue Gilles-Villeneuve at Avenue de la Hippodrome, Trois-Rivières, Qc.
Opened: 1938 as Stade municipal (renovated 2009)
Additional names: Stade Fernand-Bédard (2001), Stade Stereo+ (2016)
Home teams: Trois-Rivières Renards, Canadian Provincial League (1940); Trois-Rivières Renards (1941), Foxes (1942), Royals (1946-50), Canadian-American League; Trois-Rivières Royals (1951), Yankees (1952-53), Phillies (1954-55), Provincial League; Trois-Rivières Aigles, Eastern League (1971-77); Trois-Rivières Saints, Canadian Baseball League (2003); Trois-Rivières Aigles, Can-Am League (2013-present)
Capacity: 4,500
Rating:



3 baseballs
---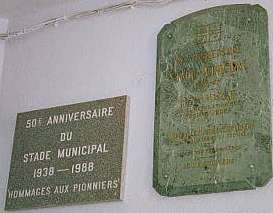 The city of Trois-Rivières (Three Rivers) is situated halfway between Montréal and Québec, where the St. Maurice flows into the St. Lawrence. It may have been considered a dividing point between the lower St. Lawrence and the upper St. Lawrence, thus the concept that there are three rivers here.

This stadium was constructed in 1938, using a plan identical to the park in Québec. Notice the exterior similarity; the only apparent difference between the parks is the paint job. Inside, though, all the seating has been modernized; instead of the raw benches for general admission in Québec, this park has all folding plastic stadium seats. Otherwise, the plan is similar, and even the outdoor beer garden is in the same place, down the left-field line.

Both this ballpark and the one in Québec have short fences. The distance to the center field wall at each park is only about 372 feet. A higher wall makes up some, but certainly not all, of the difference.

I stopped here when I saw light stanchions on a drive from Québec to Watertown in July 2001. I revisited the facility in 2015, as the stadium has been reactivated for a Can-Am League team to rival the club in Québec. These photos (except for the one at right with plaques installed in the 1980s) were taken then.

The ballpark and the nearby ice arena are surrounded by a Grand Prix auto racing track. The street in front of the stadium is named for Gilles Villeneuve, the Canadian driver who was killed in 1982 during race qualifying in Belgium.

The stadium itself was renamed for local baseball activist Fernand Bédard in 2001, but a 2014 deal with the city, to which Bédard gave his consent as well, allowed les Aigles to offer naming rights. Stereo+, a locally based chain of home electronics stores, completed the deal early in the 2016 season, with the brand name to appear on the ballpark through 2019.
---
Return to the Stadiums page
Return to Charlie's home page
E-mail: charlies.ballparks@verizon.net
---
Site and images Copyright © 2001, 2015 Charles O'Reilly. All rights reserved.
This page updated 27-Jun-2016