Chronological Tour: Stop 336

Peccole Park
---
| | |
| --- | --- |
| The seating bowl at Peccole Park, Jul-2008. | From many seats, you have a view of downtown Reno and the mountains beyond. |
---
Quick Facts:
Location: University of Nevada, between 15 and 17 Streets east of Virginia Avenue, Reno, Nev.
Opened: 1988 (renovated 2006)
Home team: Reno Silver Sox (2006-08), Golden League; University of Nevada Wolf Pack, Western Athletic Conference
Capacity: 3,000
Rating:


2 baseballs
---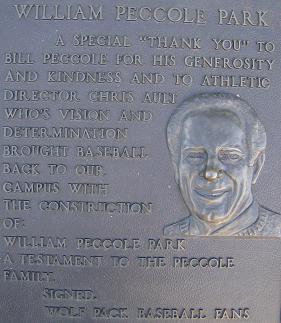 University of Nevada alumnus William Peccole almost singlehandedly saved the Wolf Pack baseball program.

The school nearly dropped the sport in the late 1980s, but Peccole gave the school $300,000 to build a new baseball stadium in 1988, and he gave a similar donation in 1995 to finance an expansion of the field. Today, Wolf Pack baseball thrives.

In addition to the main grandstand behnd the plate, which also includes the press box and concession stand, the park now features two flanking aluminum bleachers. An additional bleacher down the left-field line and a Dugout Club down the right-field line complete the scene, which faces nearly due south and affords spectators a view of downtown Reno.

Artificial turf (for everything except the mound, which remains dirt) and lights were installed in a 2006 upgrade, financed in part by the Reno Silver Sox, a Golden League team that started playing at Peccole Park in the summer of 2006. The club hit the road after the 2008 season, however, as the Tucson Sidewinders of the Pacific Coast League relocated to a downtown park in Reno for 2009. Interestingly, the Golden League then moved into Tucson, but to Hi Corbett Field, the older spring training park in town.
---
| Game # | Date | League | Level | Result |
| --- | --- | --- | --- | --- |
| 938 | Thu 31-Jul-2008 | Golden | Ind. | RENO 5, Chico 4 |
Return to the Stadiums page
Return to Charlie's home page
E-mail: charliesballparks@verizon.net
---
Site and images Copyright © 2008 Charles O'Reilly. All rights reserved.
This page updated 29-Jan-2013