Apodaca Park
---
| | | |
| --- | --- | --- |
| Entrance to the main field at Apodaca Park, Jul-2014. | Looking at the grandstand and dugouts from down the first-base line. | The view from behind the plate, which is protected by a fairly light fence. |
---
Quick Facts:
Location: Madrid Avenue at Solano Drive, Las Cruces, N.M.
Opened: 1955
Home team: Las Cruces Vaqueros, Continental League (2010), Pecos League (2011-12, 2015)
Capacity: 500 (approx.)
---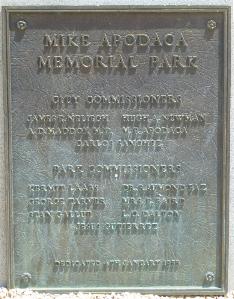 The city fathers in Las Cruces dedicated this park to former mayor Mike Apodaca in 1955. The baseball field, where the dedication plaque resides, is on the eastern edge of a larger passive park.

Apodaca Park only saw use for professional baseball for three seasons, in two leagues. The last team got out of the Pecos League after 2012 and was replaced by the Las Vegas Train Robbers, 340 miles up I-25 from Las Cruces. It is possible that los Vaqueros rode out of town because of the impending return of affiliated ball in El Paso, 40 miles to the south. That said, they were back for the 2015 season, replacing a short-lived team in Douglas, Ariz.

The Pecos League announced in February 2016 that due to structural damage at Apodaca Park resulting from unusual amounts of snowfall, los Vaqueros would not inhabit the stadium during the 2016 season. The city hopes to have the field ready for play, and the team's return, in 2017.
---
Return to the Stadiums page
Return to Charlie's home page
E-mail: charliesballparks@verizon.net
---
Site and images Copyright © 2014 Charles O'Reilly. All rights reserved.
This page updated 9-Mar-2016