Chronological Tour: Stop 243

Somewhat Less than Intimidating
---
| | | |
| --- | --- | --- |
| Main entrance to Fieldcrest Cannon Stadium, Jul-2003. | The main building and entrance portal are all on the first-base side. | The field sports a pleasant if unexciting view. |
---
Quick Facts:
Location: Stadium Drive, off Lane Road at I-85 exit 63, Kannapolis, N.C.
Opened: 1995 as Fieldcrest Cannon Stadium
Additional names: CMC-Northeast Stadium (2013), Intimidators Stadium (2017)
Home team: Piedmont Phillies (1995), Boll Weevils (1996-2000), Kannapolis Intimidators (2001-present), South Atlantic League
Capacity: 5,400
Rating:


2 baseballs
---
Fieldcrest Cannon Stadium was built in 1995 to house the relocated Spartanburg Phillies. The team remained a Phillies farm club through 2000. After that season, NASCAR superstar driver and Kannapolis native Dale Earnhardt bought an interest in the club, and it was renamed the Kannapolis Intimidators, after Earnhardt's racing nickname. The club also became a Chicago White Sox affiliate, as the Phillies chose to go with the Lakewood (N.J.) BlueClaws, who moved from Fayetteville, N.C., at the same time. Earnhardt perished in a crash at Daytona Beach, Fla., before his team could take the field, but the Intimidators live on in his memory and the club retired uniform number 3 – Earnhardt's car number – in 2002.

One enters the park from the east side, which is the first-base side. The entrance portal is covered, but it leads out into an open concourse with practically no shelter from the elements. To make matters worse, the main concession stand is set back about 50 feet from the press box, which obscures spectators' view of the sunken field. The long first-base building has a few sky boxes along with the rest rooms and the souvenir stand, which is now known as the Intimidation Station. There is a picnic area along the third-base side which is covered; that makes for a decent place to watch the game during a drizzle or on a hot summer afternoon. Also unique here is a whiteboard that features the NASCAR point standings.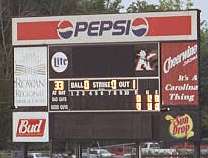 The "Good Guys" host the "Bad Guys".

Most of the seating is molded plastic seats; there are no stadium seats in the main seating bowl. There are a few general admission sections consisting of aluminum bleachers. Through 2004, instead of the labels "VISITOR" and "HOME" on the scoreboard, the plates read "BAD GUYS" and "GOOD GUYS" – the only place I've seen that. However, those disappeared with the purchase and installation of a new scoreboard in 2005.

When the park was being constructed in the fall of 1994 on a limited budget, the owners chose to add seats to the right-field line rather than investing in a better-quality drainage system. As a result, with the frequent thunderstorms that hit the Piedmont, left field turns into Lake Earnhardt with distressing frequency. My first two attempts to see a game here, in 2001 and 2002, were both rained out; the third went just five innings.
---
Return to the Stadiums page
Return to Charlie's home page
E-mail: charlies.ballparks@verizon.net
---
Site and images Copyright © 2005 Charles O'Reilly. All rights reserved.
This page updated 2-Nov-2016