Chronological Tour: Stop 292

NewBridge Bank Park
---
| | | |
| --- | --- | --- |
| Main entrance to what was then First Horizon Park, Jul-2005. | The seating bowl, as viewed from in front of the bar along the third-base line. | The downtown-area park faces northeast. |
---
Quick Facts:
Location: Edgeworth and Bellemeade streets, Greensboro, N.C.
Opened: 2005 as First Horizon Park
Additional names: NewBridge Bank Park (2008), First National Bank Field (2017)
Home team: Greensboro Grasshoppers, South Atlantic League (2005-present)
Capacity: 6,000 (seating)
Rating:




4 baseballs
---
World War Memorial Stadium had served Greensboro well since 1926, but at the start of the 21st century its shortcomings were obvious. According to site visitor Sam Wyatt, a private foundation headed by Jim Melvin arranged the financing for a new downtown facility, rather than making changes to the old park that would have fundamentally altered the site.

The result is the quite attractive and comfortable First National Bank Field (the ballpark's third name, as the result of bank buyouts). Right field borders on Eugene Street, which bisects the downtown area just two blocks south of here. This makes the park convenient to both locals and travelers, as it sits just a mile and a half north of Interstate 40 and Business Loop 85 (the old I-85 before a recent bypass was completed).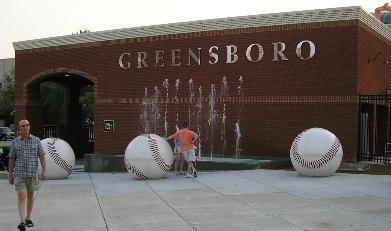 The fountain by the Eugene Street entrance.

Fans enter through a main gate on Bellemeade Street, along the first-base line. Edgeworth Street parallels the third-base line, and the box office is at the corner, behind the plate, a hundred feet from the main entrance. There is also a convenient entrance for ticket holders down the right-field line, closer to Eugene Street; there, a fountain flanked by large baseballs is an appealing site.

Inside, there is a single seating bowl, with no cross aisle. Unlike many new parks, one cannot walk around the entire field on the concourse here; the end of the third-base line features an outdoor Grandstand Bar covered by a tent-like structure, while the first-base concourse ends in a children's play area.

The staff were friendly for the most part, although my attempt to get a different angle on the Eugene Street fountain was thwarted by a ticket taker who sternly advised, "Re-entry requires a new ticket." No matter. While I was disappointed to see War Memorial's days as a professional park come to a close, I was impressed by its replacement.
---
Return to the Stadiums page
Return to Charlie's home page
E-mail: charlies.ballparks@verizon.net
---
Site and images Copyright © 2005 Charles O'Reilly. All rights reserved.
This page updated 20-Jul-2017