Chronological Tour: Stop 98

Let's Go Nuts!
---
| | | |
| --- | --- | --- |
| Entrance to Cooley Law School Stadium, Aug-2014. | The stadium, as seen from beyond a flower bed on the right-field concourse. | The park faces due north, as it is sandwiched between busy city streets. |
---
Quick Facts:
Location: East Michigan Avenue between Cedar and Larch streets, Lansing, Mich.
Opened: 1996 as Oldsmobile Park
Additional names: Cooley Law School Stadium (2010)
Home team: Lansing Lugnuts, Midwest League (1996-present)
Capacity: 11,000
Rating:




4 baseballs
---
In the summer of 1995, the Sultans of Springfield, Ill., announced plans to move to Lansing for 1996 and call themselves the Lugnuts.

Besides consigning picturesque Lanphier Park in Springfield to life in the independent leagues, the move drew some anger among the townsfolk of Lansing. Part of the problem was the nickname, which people in the Michigan state capital didn't think befit them. "If you want to honor the auto industry, call them the Lansing Layoffs," wrote one local in Sports Illustrated.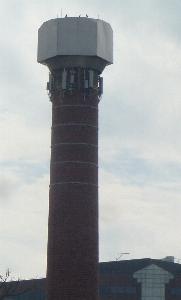 However, the nickname stuck, and the people eventually took to their team, supporting it in near-record numbers. One factor was their lovable mascot, Big Lug. Another was the rallying cry for the team: "Let's Go Nuts!"
As you can clearly see, Oldsmobile Park is one of the nicer ones going. There remains one problem: The team logo depicts a bolt, not a lug nut. However, during the summer of 1996 the world's largest lug nut (right) was "mounted" atop a smokestack across the street from the ballpark.
With General Motors having retired the Oldsmobile brand some years back, the park was ripe for renaming. Cooley Law School at Michigan State University now sponsors the stadium, while Jackson National Life Insurance Company sponsors the field, and "Jackson Field" is prominently displayed within the facility.
Major renovations are planned for 2015. While space is constrained by the two streets that run alongside the park (which together comprise old US 127), some internal renovations are still planned that will remove the bleacher seating in favor of picnic areas and also build a walk-around concourse.
---
Return to the Stadiums page
Return to Charlie's home page
E-mail: charlies.ballparks@verizon.net
---
Site and images Copyright © 2014 Charles O'Reilly. All rights reserved.
This page updated 20-Jan-2015