Chronological Tour: Stop 65

Hadlock Field
---
| | | |
| --- | --- | --- |
| Exterior of Hadlock Field, May-2010. | The Exposition Center is visible beyond the right-field line. | From behind the plate on a pleasant Sunday afternoon. |
---
Quick Facts:
Location: Park Avenue at Gilman Street, just off I-295, Portland, Me. (map it using Google Maps)
Opened: Unknown (current stadium built 1994)
Home team: Portland Sea Dogs, Eastern League (1994-present)
Capacity: 6,975
Rating:




4 baseballs
---
Baseball had made a prior appearance in Maine during the 1970s and 1980s, when the Maine Guides played in Old Orchard Beach, about ten miles south of Portland.

In 1994, with Eastern League expansion, Portland got one of the two slots, and this high school baseball field, squeezed in between the Exposition Center, the football field, and the railroad tracks, was expanded into a professional facility.

The combination worked, as the Sea Dogs have been one of the top-rated clubs in the league year after year. The club just missed drawing 400,000 fans to its 1998 campaign, after leading the league in attendance when they opened four years earlier.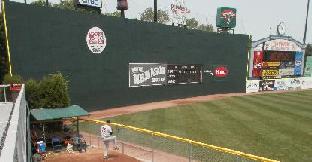 The scoreboard is now inside the Maine Monster.

Another boost to the Sea Dogs' fortunes came in 2003, when, in a series of affiliation shifts in the Eastern League, the Sea Dogs became an affiliate of the Boston Red Sox. Shortly thereafter, the Sea Dogs modified the park, installing the "Maine Monster", a replica of the left-field wall at Fenway Park, as well as additional seating in right field that now blocks the view of the adjacent football field.

Hadlock Field is named for Edson B. Hadlock, Jr., who coached the Portland High School baseball team from 1950 to 1978.
---
Return to the Stadiums page
Return to Charlie's home page
E-mail: charlies.ballparks@verizon.net
---
Site and images Copyright © 2010 Charles O'Reilly. All rights reserved.
This page updated 19-Nov-2012