Chronological Tour: Stop 17

A Little Ways Up the Hill
---
| | | |
| --- | --- | --- |
| Entrance to Municipal Stadium, Jul-2011. | A good look at the main grandstand. | Visible here is a short rise in the ground level in left field. |
---
Quick Facts:
Location: Eastern Parkway South, Hagerstown, Md.
Opened: 1930 (renovated: unknown)
Home team: Hagerstown Owls, Interstate League (1941-49); Hagerstown Braves, Interstate League (1950-52), Piedmont League (1953); Hagerstown Packets, Piedmont League (1954-55); Hagerstown Suns, Carolina League (1981-88), Eastern League (1989-92), South Atlantic League (1993-present)
Capacity: 4,600
Rating:



3 baseballs
---
When I first saw Hagerstown Municipal Stadium in 1991, the Suns were still in the Eastern League. That affiliation ended in 1993, when the club was sold and moved to Bowie, with a one-season stopover in Baltimore.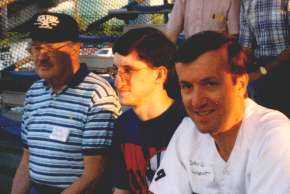 SABR founder Bob Davids (left) and other members
at a 1998 game.

Fortunately, it didn't take long for the South Atlantic League to move in and re-adopt the Suns name. That kept this little park going for two more decades. In 1998, I landed here and caught the tail end of a regional meeting of the Society for American Baseball Research, which was attended by founding member Bob Davids, among many others.

The seating areas are nothing to write home about; a section of grandstand behind home plate received new seats in the early 1990s. However, the intriguing feature is a rise in ground level near the wall in left field. Whether this was just the original lay of the land or somebody's idea of being cute, I had no idea. Helpfully, site visitor Jamie Slavy advised me in 2008 that there is a limestone deposit in left field that was too difficult to flatten when the park was built. Slavy writes, "It's one of the few true (not manufactured) quirks that still exist on a modern baseball playing field."

I am not certain when the current aluminum grandstand was installed. Obviously, it is not original to the park; however, the grounds clearly date to 1930. Some of the seating in the main grandstand was replaced shortly before the 2011 season.

There was talk of building a new park here, near the crossroads of I-70 and I-81, and officials later floated the possibility of a downtown ballpark. Neither idea came to fruition, however, and the Suns made plans to move to a new park in Fredericksburg, Va., for the 2015 season, plans that are now on hold due to real estate issues at the Fredericksburg site. A new plan arose in April 2015 for Spotsylvania County, just south of Fredericksburg, to build a park to accommodate the Suns. (Stay tuned.)
---
Return to the Stadiums page
Return to Charlie's home page
E-mail: charlies.ballparks@verizon.net
---
Site and images Copyright © 1998, 2011 Charles O'Reilly. All rights reserved.
This page updated 21-Aug-2015