Loeb Stadium
---
| | | |
| --- | --- | --- |
| Home plate entrance to Loeb Stadium, taken Jul-2009 but little changed since 1940. | The seating bowl, as seen from shallow left field. | The field, as seen from behind home plate. |
---
Quick Facts:
Location: Columbian Park, Main Street and Wallace Avenue, Lafayette, Ind.
Opened: 1940 as Columbian Park Recreational Center (renovated 1986-94)
Additional names: Loeb Stadium (1971)
Home team: Lafayette Chiefs, Mississippi-Ohio Valley League (1955); Lafayette Red Sox, Midwest League (1956-57); Lafayette Leopards, Great Central League (1994), Mid-America League (1995), Heartland League (1996-98); Ohio Valley Redcoats, Frontier League (several games in 2005)
Capacity: 4,000 (approx.)
---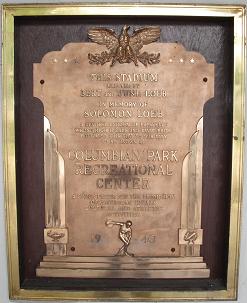 Columbian Park, not far from the center of Lafayette, is the city's recreation hub. It contains playgrounds, a zoo, and swimming holes as well as this ball field, built in 1940 by Bert and June Loeb in memory of Solomon Loeb. The humble Loebs named it the Columbian Park Recreation Center, but the city park board renamed it Loeb Stadium in 1971.

The park hosted the semi-pro Lafayette Red Sox almost from its inception, and then it had the fortune to host a Midwest League team by the same name but actually affiliated with the Boston club for two years in the Midwest League before the club relocated to Waterloo, Iowa for 1958.

Since 1969, with the exception of the 1972 season, the Colt (16-and-under) division of PONY Baseball has held its World Series at the facility. In the 1990s, the Lafayette Leopards, another professional team, used the site for five seasons in three different independent leagues.

Despite interior renovations, the park appears to be much as it was when the Loebs built it back in 1940.
---
Return to the Stadiums page
Return to Charlie's home page
E-mail: charliesballparks@verizon.net
---
Site and images Copyright © 2009 Charles O'Reilly. All rights reserved.
This page updated 28-Jul-2009