Chronological Tour: Stop 349

Melaleuca Field
---
| | | |
| --- | --- | --- |
| Main entrance to Melaleuca Field, Aug-2009. | Behind the plate and in the press box and suites, attractive brick work; the rest of the stadium is aluminum. | From behind the plate, you can tell that the outfield wall was not replaced. |
---
Quick Facts:
Location: Highland Park, Elva Street at Blaine Avenue, Idaho Falls, Idaho
Opened: 1940 (stadium rebuilt 2007)
Home team: Idaho Falls Chukars, Pioneer League (2007-present)
Capacity: 2,600 (approx.)
Rating:


2 baseballs
---
The new Melaleuca Field in Idaho Falls is a great improvement over the previous stadium, McDermott Field, and that isn't saying much.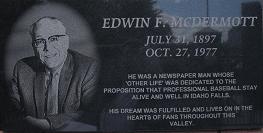 Working around the template of the same field that has been in place at Highland Park since 1940, and utilizing an infusion of funds from Melaleuca, a locally-based manufacturer of organic and hypoallergenic cleaning products, Idaho Falls completely rebuilt the stadium structure, while leaving the field and the outfield wall intact.
The new facility includes seven sections of stadium seating flanked by several sections of aluminum bleachers, all on an aluminum surface. The press boxes, suites, concession stands, and the base of the backstop are all brick. And the concession stands are down below the stadium level, out behind the grandstand, just as they were at McDermott Field.
Given the state of the old ballpark, Melaleuca Field is something the locals can be proud of. The problem, for me, is that it doesn't even come close to the new parks in league rival cities like, say, Ogden and Orem. The stadium actually appears to have been built on the cheap.
I do give the organizers credit for dedicating a plaque near the souvenir stand to Edwin F. McDermott, to whom the previous incarnation of the stadium at Highland Park was dedicated.
---
Return to the Stadiums page
Return to Charlie's home page
E-mail: charliesballparks@verizon.net
---
Site and images Copyright © 2009 Charles O'Reilly. All rights reserved.
This page updated 17-Aug-2009