Chronological Tour: Stop 262

The Heart of Dodgertown
---
| | | |
| --- | --- | --- |
| Entrance to Holman Stadium, along the third-base line, Aug-2003. | The short yet expansive seating area. | The Dodgers' training building, for major leaguers only, was added in 2003. |
---
Quick Facts: Rating:



3 baseballs
---
I've had people tell me they absolutely adore Holman Stadium, which opened in 1953 as part of Dodgertown, where the Brooklyn Dodgers started training in 1948. I've also heard at least one person tell me that Holman is the absolutely most overrated park in baseball. I have to come down on that side of the fence, although I wasn't totally disappointed.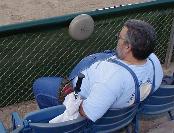 Gerald and his bell.

The park is certainly unusual. It has all stadium seats, although it may be possible to sit out on the berm during spring training. And everything is completely exposed to the elements, including the dugouts – which are nothing more than benches that sit one step below field level and are protected only by a railing, no roof or anything. These might have been the dugouts that inspired what you see in Johnny Hart's "B.C." comic strip. The stands are only 17 rows deep, although they do extend all the way down both foul lines.

At most home games, a fellow named Gerald sits behind the Dodgers dugout and rings a bell, sometimes in time with the music, but other times in response to specific plays. For instance, one hears three chimes for a strikeout.

In September 2004, Hurricane Frances did some damage to the dormitories at Dodgertown as well as a ground crew equipment building. In addition, the scoreboard at Holman Stadium was knocked down, and two of the four old oak trees that grew in the stands, providing the facility's only substantial shade, were lost to the storm. However, the Dodgers were able to begin instructional league play as scheduled.

The beginning of the end for Dodgertown came when the Dodgers announced that they are moving their spring training operations to a new complex in Goodyear, Ariz., for the 2009 season. For two seasons, the Vero Beach franchise in the Florida State League was operated as a Tampa Bay farm club, but the Rays purchased the team in conjunction with Ripken Baseball in 2008 and will move that club to Port Charlotte in 2009.
---
Return to the Stadiums page
Return to Charlie's home page
E-mail: charlies.ballparks@verizon.net
---
Site and images Copyright © 2003 Charles O'Reilly. All rights reserved.
This page updated 14-Aug-2009