Chronological Tour: Stop 287

Bright House Field
---
| | | |
| --- | --- | --- |
| West gate of Bright House Networks Field, Aug-2004. | A look at the stadium from above the bullpens in left field. | The line from home plate through second base is northeasterly. |
---
Quick Facts: Rating:




4 baseballs
---
After 49 seasons at Jack Russell Stadium near downtown Clearwater, the Philadelphia Phillies and the City of Clearwater teamed up to build Bright House Networks Field. The name was later shortened to Bright House Field; for 2017, the cable outfit had been purchased by Charter Communications, which branded its "triple play" service as Spectrum in late 2016, so this became Spectrum Field.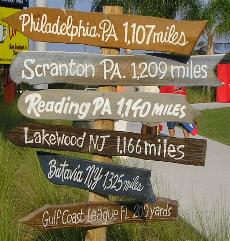 Three levels and how many miles to Philly?

This modern facility, convenient to the busy US 19, features full training facilities for the Phillies' spring operations as well as several features that are good for spectators. There are no benches here, only 6,437 stadium seats in a single bowl (no cross aisle) as well as room for 460 more in the suites and club level and another 1,000 on the grass berm in the outfield. The seats down the lines are angled toward the field.

In addition, there is a tiki bar beyond left field. On the night I attended, a fireworks Saturday, it appeared there were more fans at the tiki bar than in the seating bowl ... and the folks in the tiki bar were paying little heed to the game in progress, perhaps in part because of a Tampa Bay Buccaneers preseason game taking place across the bay and available on television.

There are only two entrances to the park, a south gate and a west gate. There is no access behind home plate, which could make egress difficult for fans leaving a spring training game. On the other hand, for Florida State League games, general admission was just $2 (at least in 2004). By 2016, the price had increased and they were also charging for parking.

Much was made by the Phillies of how they received both a new spring training facility and a new home park in the same year.
---
Return to the Stadiums page
Return to Charlie's home page
E-mail: charlies.ballparks@verizon.net
---
Site and images Copyright © 2004 Charles O'Reilly. All rights reserved.
This page updated 9-Jan-2017