Chronological Tour: Stop 73

Recreation Park
---
| | | |
| --- | --- | --- |
| The new main entrance to Recreation Park, down the right-field line, Aug-2009. | Visible here are the new right-field building, the 1968 grandstand, and the Watering Hole down the third-base line. | The view from behind the plate now includes bullpens and an equipment barn. |
---
Quick Facts:
Location: Giddings Street just north of Center Avenue, Visalia, Calif. (map it using Google Maps)
Opened: 1946 (last renovated 2009)
Home team: Visalia Cubs (1946-52, 1954-56), Visalia Stars (1953), Visalia Redlegs (1957-59), Visalia Athletics (1960-61), Visalia White Sox (1962), Visalia Mets (1968-75), Visalia Oaks (1977-92, 1995-2008), Central Valley Rockies (1993-94), Visalia Rawhide (2009-present), California League
Capacity: 2,400 (approx.)
Rating:


2 baseballs
---
Recreation Park is the long-time home of the Visalia Oaks, one of the proud franchises of the California League. The Oaks have been in the Cal for all but eight of the seasons since the loop was formed in 1941. The club has had several names over the years, but were most often known as the Oaks (though when I first visited in 1994, they were called the Central Valley Rockies).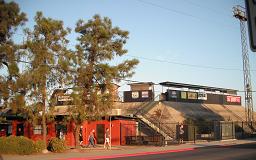 The old home-plate entrance.

The ownership groups in Stockton and Visalia changed places in 2002. Oaks general manager Jennifer Whiteley advised in 2003 that Recreation Park had undergone a major renovation; on her invitation, I returned in 2004 and took a look. New stadium seats had replaced the benches in the main grandstand, which actually reduced the official stadium capacity from 1,800 to 1,612. In addition, a picnic pavilion had been added down the left-field line, and wrought-iron perimeter fencing had allowed the club to expand the concourse area.

The photos on this page were taken during a 2009 visit, following yet another significant renovation. New team offices were added along the right-field line, in a building which also includes new concession and souvenir stands and the Hall of Fame Club, a premium area. Seating was extended down that line as well, and berm seating was added. New bullpens, behind the outfield wall, were also in place, as well as an equipment barn, one wall of which is part of the outfield wall. In addition, to honor Visalia's dairy heritage, the team was rebranded the Rawhide.

A long-time Visalia baseball fan at the game told me that the main grandstand was not original to 1946, but was built atop debris from the excavation of the CA 198 freeway through Visalia around 1968. Prior to that time, the park had a wooden grandstand similar to Lawrence Park in Lodi (where the main grandstand has since also been replaced).

The same fan had nothing but good words for Whiteley, the former GM, who led a relentless push for cooperation from the City of Visalia to continue the ballpark renovations prior to returning to her New Jersey home and retiring from baseball following the 2004 season. Her efforts helped spur the facility improvements that currently exist at the ballpark.
---
Return to the Stadiums page
Return to Charlie's home page
E-mail: charlies.ballparks@verizon.net
---
Site and images Copyright © 2009 Charles O'Reilly. All rights reserved.
This page updated 27-Aug-2009