Chronological Tour: Stop 69

Riverside Sports Center
---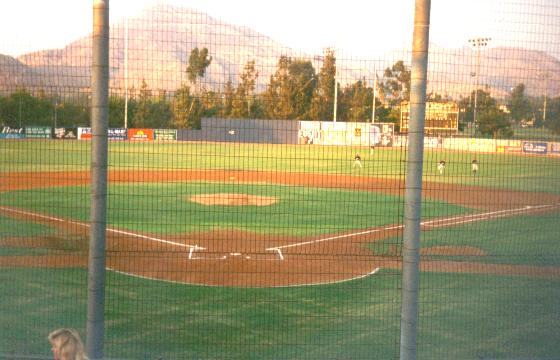 Riverside Sports Center, Aug-1994. Nice field, nice scenery, horrible park for pro ball.
---
Quick Facts: Rating:

1 baseball
---
There's only one photo on this page because the place only deserves one.

The home of the Riverside Pilots when I visited in 1994 was this nondescript playing field whose primary purpose was to serve the University of California at Riverside, on whose campus it was located.

Hardly anyone went to the games. The facility itself contributed, but a larger factor was that UC-Riverside never allowed the Pilots to sell beer.

Mercifully, the Pilots were history a short time later, their tenure about as long as that of the Seattle Pilots. The club relocated to Lancaster in 1996, the second pro occupant to move after just three seasons. The Riverside Red Wave moved to Adelanto in 1991 and became the High Desert Mavericks.

The field continues to be used by the Highlanders of UC-Riverside.
---
Return to the Stadiums page
Return to Charlie's home page
E-mail: charlies.ballparks@verizon.net
---
Site and images Copyright © 1994 Charles O'Reilly. All rights reserved.
This page updated 6-Dec-2016