Grover Mitchel Field
---
| | | |
| --- | --- | --- |
| Entrance to Mitchel Field in the Gary Nolan Sports Park, Aug-2008. | The original grandstand was long ago replaced by two sets of aluminum bleachers. | The view from behind the plate. |
---
Quick Facts:
Location: 5th & Gardella streets, Oroville, Calif.
Opened: 1948 (or earlier)
Home team: Oroville Red Sox, Far West League (1948)
Capacity: 1,200 (approx., 2008)
---
Oroville, The City of Gold, found itself in professional baseball for one season, 1948. The Red Sox placed a team here that year in the Far West League, playing at this field.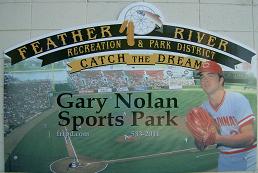 Today, the park is part of the larger Gary Nolan Sports Park, which also contains a softball field and the Play Zone, a shaded playground. Nolan, who won 110 games for the Cincinnati Reds and California Angels from 1967 through 1977, lives in Oroville these days. Interestingly, the plaque proclaiming the Gary Nolan complex has a photo of Great American Ball Park in the background, whereas Nolan's home parks were Crosley Field and Riverfront Stadium.
As with many such old facilities, the park today consists of replacement aluminum bleachers. Nothing remains of the original stadium structure.
Most references to this ballpark have identified it as Mitchell Field (with the more conventional double-l spelling of Mitchell). However, the entrance to the park says Grover Mitchel (with one l), and I have verified that there was a Mitchel family in Oroville in the 1950s. Accordingly, I have gone with the one-l spelling (even though the scoreboard gives the two-l spelling).
---
Return to the Stadiums page
Return to Charlie's home page
E-mail: CharlieZeb@aol.com
---
Site and images Copyright © 2008 Charles O'Reilly. All rights reserved.
This page updated 2-Aug-2008