Chronological Tour: Stop 124

The Big A
---
| | | |
| --- | --- | --- |
| Home plate entrance to Angel Stadium of Anaheim, Jul-2008. | Looking in at the field from the Budweiser Patio in right field. | The building across the freeway in center field is "The Pond" (now the Honda Center), home of the National Hockey League Anaheim Ducks. |
---
Quick Facts: Rating:



3 baseballs
---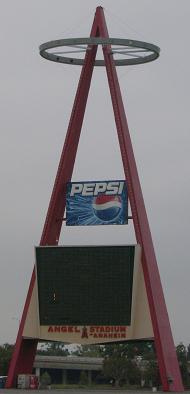 On Sunday 28-Aug-1994, the day after a tremendous Little League championship game in South Williamsport, Pa. (Maracaibo, Venezuela, beat Northridge, Calif., by one run), I caught a flight to Los Angeles International Airport. My original plan was to see Anaheim Sunday, Dodger Stadium Monday, and San Diego Stadium Tuesday. Alas, the majors were on strike at the time, so I altered my itinerary and visited Lake Elsinore Sunday, Rancho Cucamonga Monday, and Riverside Tuesday.

By the time I got to the park affectionately called the "Big A", in 1997, Disney owned the Angels, and they had begun a huge renovation of the park, tearing down the center-field bleachers that had been built to accommodate the Los Angeles Rams football team. By opening day in 1998, the outfield was dominated by a water park (actually, a display area rather than a playground), and the upper deck had been completely done over.

It took me until 2009 to see another game at the Big A. This was a Wednesday afternoon contest which a lot of ticket holders were unable to attend, so it was possible to walk around the park a little bit. While the renovations in the outfield are indeed impressive, the interior of the park is a bit underwhelming, more reminiscent of other ballparks that were built in the mid-1960s, like Shea Stadium. Still, I found the park comfortable, and it was enjoyable to sit in the upper deck, in the shade even on a very warm day, and watch "just another Halo victory".

By the way, the night I was there in 1997, Matt Williams of Cleveland tied an American League record by knocking in six runs in the fourth inning.
---
Photo of the ballpark during the 1997 renovation
---
Return to the Stadiums page
Return to Charlie's home page
E-mail: charlies.ballparks@verizon.net
---
Site and images Copyright © 1997, 2008, 2009 Charles O'Reilly. All rights reserved.
This page updated 15-Jan-2016