Chronological Tour: Stop 323

The Travelers Travel Here
---
| | | |
| --- | --- | --- |
| Home-plate entrance to Dickey-Stephens Park, Aug-2007. | A look at the seating bowl from the left-field berm. | The view from home plate, including a state-of-the-art scoreboard. |
---
Quick Facts:
Location: North Broadway and West Broadway, Little Rock, Ark. (map it using Google Maps)
Opened: 2007
Home team: Arkansas Travelers, Texas League (2007-present)
Capacity: 7,200
Rating:




4 baseballs
---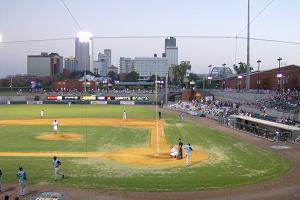 The Little Rock skyline is visible.

After 73 seasons at Ray Winder Field in Little Rock, the Arkansas Travelers moved across the river to this new park, which opened 12-Apr-2007 with a game against the Springfield Cardinals, against whom the A-Travs played their last game at the old stadium. The park is named after ballplaying brothers Bill and George Dickey and their financier friends the Stephens brothers.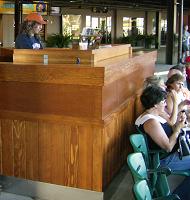 The organist.
Yes, the address is correct. North Little Rock has both a north-south street called North Broadway and an east-west street called alternately East and West Broadway. The park stands where the Broadways meet. Locals simply call it the corner of Broadway and Broadway. As the game I attended went into extra innings, the public address system played George Benson's remake of the Drifters classic "On Broadway".
Earlier in the game, though, the organ was in use. The organist, pictured here, came up with some good selections during the game, as well as the usual "charge" calls and so forth. For instance, with runners on the corners, he played a bit of the Creedence Clearwater Revival hit "Down on the Corner".
The park is handsomely built, with a clock tower at the entrance and a walk-around concourse. There is also a beer garden down the right-field line. The southeast alignment from home plate to center field allows for a view of downtown Little Rock, something that was not available at the old park, which was located on the west end of town near the zoo.
---
Construction photos, Sep-2006: Home plate | Outfield
---
Return to the Stadiums page
Return to Charlie's home page
E-mail: charlies.ballparks@verizon.net
---
Site and images Copyright © 2006, 2007 Charles O'Reilly. All rights reserved.
This page updated 30-Jul-2015