Puerto Rico Winter Baseball
Fan Impressions by Spike
Revised in November 2007
The LBPPR has canceled the 2007-08 season, for the first time in 70 years, "for financial reasons." It's not clear how or when this situation changes, as meager attendance has been a mainstay since I was visiting annually (last in 2001).

The memories on this site of Puerto Rico winter baseball are yours to enjoy, but the other Web sites whose links are here seem to be inactive, and the specific information here is likely to be obsolete.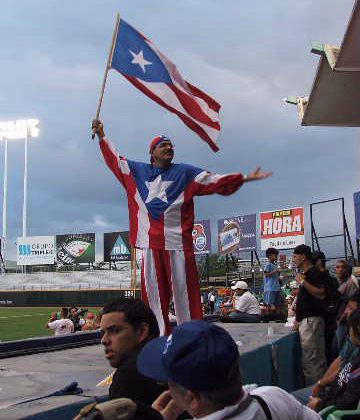 Links to other pages appear below. There are also pages with individual reviews of specific teams, or click anywhere on the map to see a nearby team:

Arecibo (no page)


(Bayamón*)

Caguas*

Carolina

Manatí

Mayagüez

Ponce

(Santurce*)
* with detail map

---
In the capital district, Carolina is one city east of San Juan, beyond the airport, and Caguas is the first city south on the toll road. Westward on the north shore, Manatí is half an hour west and Arecibo is twice as far. Ponce and Mayagüez are more distant, but accessible without staying overnight. The green lines are expressways, and the bright green ones are toll roads.
---
Text, map, and web page design Copyright © 1999-2007, Spike, Brentwood, N.H. Photo Copyright © 2005 by Gail Ohnsman. All rights reserved. Logos and artwork of the teams and of the league belong to their respective owners and some may be registered trademarks.
---
Return to Charlie's Big Baseball Parks Page